Facing the loss of a baby is one of the most difficult challenges that NICU Parents can face. I have found with the many years of working in the grief, loss and bereavement field, that often times hearing or reading words of wisdom from someone else can help to console during a time of great loss.


One of my favorite quotes to help put a death in perspective comes from Dr. Leo Buscaglia: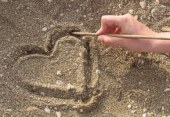 I know for certain that we never lose the people we love, even to death. They continue to participate in every act, thought and decision we make.

Their love leaves an indelible imprint in our memories. We find comfort in knowing that our lives have been enriched by having shared their love.
Leo Buscaglia
While words cannot take away the intense pain and sorrow you are feeling, these words that others have found to be helpful during their times of loss may help to ease the pain, by helping you "find comfort in knowing that your lives have been enriched" and that you have been forever imprinted by knowing your baby.


Photo Source: Sanja Gjenero.
Heart in Sand
. Royalty Free Use.