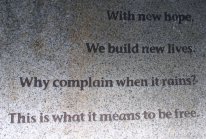 As mentioned yesterday in the introduction to the
Weekly Encouraging Messages
, I am a great believer in the power of words to help those facing challenging times or a life crisis. I believe that:
Sometimes, it seems that all you need is the right quote, poem or inspirational message at the right moment to help provide perspective, insight and aid in surviving a life crisis.





...it can be helpful to read the words from others who have been there and survived.
Comforting Moments for NICU Parents


In addition to the Weekly Encouraging Messages, the NICU Parent Support Blog will also be featuring Weekly Comforting Moments for those NICU parents who are facing the end of their baby's life, or living on after their baby has died.

The comforting moments are designed to be short quotes for parents whose babies will die, are dying, have died that can be read quickly and hopefully bring a bit of comfort during this time of challenge.
---

Words of Sympathy to Console During This Time of Loss
Those who have lost an infant are never, as it were, without an infant child. Their other children grow up to manhood and womanhood, and suffer all the changes of mortality; but this one alone is rendered an immortal child; for death has arrested it with his kindly harshness, and blessed it into an eternal image of youth and innocence.
James Henry Leigh Hunt
Photo Credit: Gary Cowles. Rock Poem. Royalty Free Use.